The Toyota of Muskegon Toyota Express Maintenance Difference.
We know that your time is valuable and so is your business. We go above and beyond to cater to the busy schedule of our customers in West Michigan. It's called Toyota Express Maintenance, and it guarantees a timed, efficient Service Center appointments for all of your minor repairs and maintenance needs. So when your Toyota needs factory-scheduled maintenance or minor repairs, don't let it slow you down. Toyota Express Maintenance offers everything you need to keep you moving. All from the one place you trust to do it right - Toyota of Muskegon. We will get you back to cruising the Lakeshore roads in 60 minutes of less.
Our skilled, factory-trained technicians are well-versed in your particular Toyota model so they can provide you with the swift service you want while still delivering a thorough, detail-oriented service your care needs. Here at our Toyota of Muskegon repair center in Muskegon, MI, we prioritize the quality of service, not quantity of time spent under the hood and we back our work with genuine Toyota Parts.
We Cover a lot of Ground
Our Toyota-trained technicians are deployed in a "pit crew" approach, to ensure your vehicle receives rapid and accurate service. Eligible services include:
Tire rotation
Multipoint inspection
Fluid inspection and replenishment
Fast, efficient maintenance without the wait: Enjoy Toyota Express Maintenance in Muskegon
Your Toyota was built to last, we know because we own and drive them as well - but only if you take care of it. Fortunately, Toyota of Muskegon offers a variety of ways to keep your car conditioned and sturdy for years to come. If auto repair in Muskegon, Holland, Grand Haven, Spring Lake and Grand Rapids is tough to schedule around your busy lifestyle our auto service center can accommodate you. With Express Maintenance and Toyota of Muskegon, service is fast, simple, and affordable for everyone.
Regularly scheduled maintenance
is important for any car whether it's a new model hitting its first few thousand miles, or it's a beloved old Toyota truck that's rolling over 200,000 miles. By following your manufacturer service schedule to the letter, and by paying attention to other general maintenance issues your vehicle will last longer and deliver more dependable and economical performance. You'll even see improved fuel economy and a smoother ride quality. It's worth it to take the time and energy, for optimal reliability and peace of mind in return.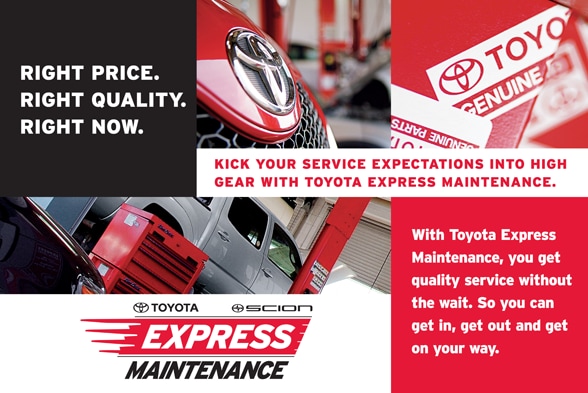 What are the benefits of using synthetic oil?
Genuine Toyota Motor Oil OW20 is specifically formulated for your Toyota to meet the requirements of today's new engine technology.
It improves fuel economy by increasing the efficiency of your engine's oil system, more miles per gallon
It reduces engine friction and provides uniform lubrication throughout the engine to help prevent engine deposits, more engine protection
It is easier on the environment and your wallet. For many customers, the change to synthetic oil permits extending the oil drain intervals, which means a reduced waste stream and cost of ownership
It helps to protect the engine during extreme operating conditions
It provides a quicker oil flow to critical parts of the vehicle resulting in faster starts and better overall engine protection over a wide variety of temperatures, more stability under a wide range of temperature conditions